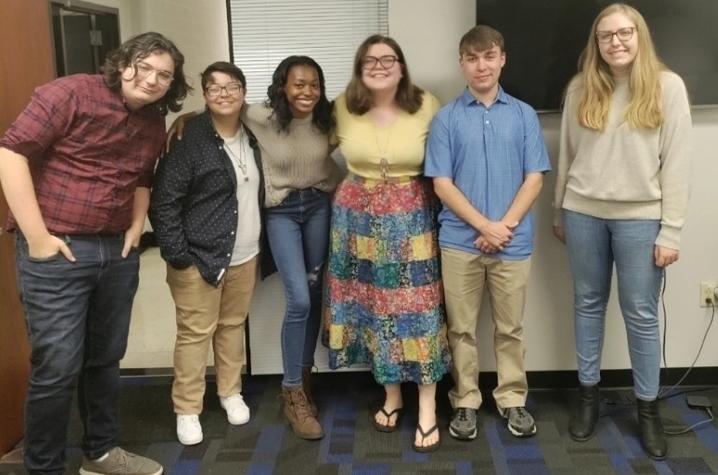 LEXINGTON, Ky. (Jan. 28, 2022) — The UK Intercollegiate Public Forum (PF) Debate Team, housed in the University of Kentucky College of Communication and Information, officially wrapped up the fall semester of competition.
Led by public forum debate coach, Katie Humphries, the newly established program has witnessed exceptional growth. With only one interested student at the start of the Fall 2021 semester the team is now eight competitors strong.
"Helping to build a new program has been one of the highlights of my journey here at UK," said Humphries. "These students come from incredibly diverse backgrounds — ranging from business to politics to neuroscience. It is rewarding to lead a program that has a spot for anyone."
The public forum debate program continues to grow, as students from across the country commit to attending UK with hopes to compete in PF debate. The team recently welcomed its newest member, an incoming freshman from Minnesota.
Throughout the fall semester, students competed at several competitions. Three UK PF teams attended the Collegiate Public Forum November Invitational. The largest CPFL event to date, UK students debated the topic, "Resolved: When in conflict, the United States' obligation to protect public health outweighs the preservation of individual freedom."
"This semester challenged a belief that I had wholeheartedly agreed with when I learned about the negative impacts on certain people — debate makes you recognize the nuances of situations," said sophomore debater Eriel Burns. "All in all, the fall semester has been extremely encouraging and rewarding as I was awarded top Novice speaker in our last tournament in my first-ever debate tournament!"
Two PF teams from UK placed in the finals. Burns and freshmen Bryson Henson placed second in the Novice Division, with Burns receiving the Top Speaker Award. Freshman Cole Flaherty and sophomore Caroline Koontz placed second in the Open Division. Kentucky students competed against and triumphed over, an elite field that included teams from Vanderbilt University, the University of Southern California, the University of Texas and more.
The team now readies for their next competition, the virtual Collegiate Public Forum Spring Opener held in early February.
Follow UK's Intercollegiate Debate Team's journey by visiting their website at https://ci.uky.edu/UKDebate/.